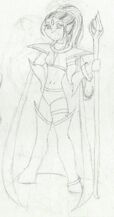 Cat is a member of the Pi Force and the caretaker and mother figure for Aiko.
Basic Info
Edit
Name: Cat Felinus
Clan: Pi Force
Clan Guardian: Laima
Weapon: Staff
Profession: Police Officer
SES: Lower Middle Class
Celestial Race: Amoretto Division
Hair: Blue
Eyes: Blue
Skin: Pink
Brother: Ocelot Felinus
Daughter: Aiko, Civet
Cat is like a mother hen for the Pi Force.  She helps her brother Ocelot oversee operations and run the Pi Police Department.  In Volume 1, she flied a helicopter in for an air raid to bust a street brawl.  She was the ex-girlfriend of Jupiter before he met and married Venus's mother.
Find out the truth about Cat and the other members of the Pi Clan in Volume 5.
Ad blocker interference detected!
Wikia is a free-to-use site that makes money from advertising. We have a modified experience for viewers using ad blockers

Wikia is not accessible if you've made further modifications. Remove the custom ad blocker rule(s) and the page will load as expected.