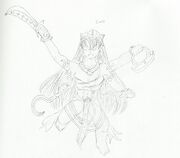 Hydra is the leader of the 12 Hellions.
Basic Info
Edit
Name: Hydra
Clan: Delta
Power: Evil
Weapon: Lawlessness
Profession: Being evil
Celestial Race: Hellion
Hair: Black
Eyes: Red
Skin: Dark Brown
Mother: (Find out in Volume 6)
Father: (Find out in Volume 6)
Sister: (Find out in Volume 6)
Daughter: (Find out in Volume 10)
Hydra is evil.  Although he was orginally a member of the Delta Clan, he rules over the Delta Clan, Mu Clan and Beta Clan.  More is explained about his evil purpose in Volume 5 by Dr. Mihos (you know, the part where the bad guy explains everything to the hero).  Pieces of his story can be found in Volume 4 and Volume 6.  Although everyone talks about him and is afraid of him, the audience won't meet him until Volume 12.
Ad blocker interference detected!
Wikia is a free-to-use site that makes money from advertising. We have a modified experience for viewers using ad blockers

Wikia is not accessible if you've made further modifications. Remove the custom ad blocker rule(s) and the page will load as expected.