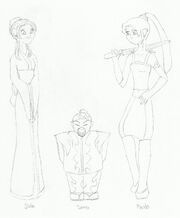 Judo is a member of the Tau Clan
Basic Info
Edit
 Name: Tomiki Judo
Clan: Tau
Clan Guardian: Inta
Profession: Caretaker of Tau Temple
SES: Upper Class
Celestial Race: Strongholds Division
Hair: Black
Eyes: Black
Skin: Pale
Father: Sumo
Daughter: Tomiki Aikido
Niece: Kendo
Husband: Jujitsu
Judo is the mother of Aikido.  She is very patient, polite and gracious.  She even remains calm whenever her daughter tears up the house while fighting with her arch rival, China from the Chi Clan. 
Find out more about Judo and her husband Jujitsu in Volume 4.
Ad blocker interference detected!
Wikia is a free-to-use site that makes money from advertising. We have a modified experience for viewers using ad blockers

Wikia is not accessible if you've made further modifications. Remove the custom ad blocker rule(s) and the page will load as expected.