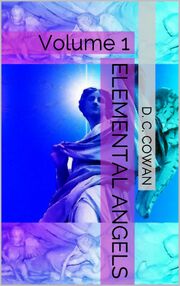 The angelic world is filled with celestial beings called elemengels who can give their power to the people they protect.  They watch over the twelve clans of the Dionne System in a faraway galaxy.  They help the chosen from each clan defend against the evil Hellions who threaten to upset the balance of good and evil in the universe.  Check out Elemental Angels a series of books for youth and young adults interested in celestial beings who can control the elements. 
Introduction to Series
Edit
Meet Venus a little girl whose father has a big secret.  Her father is the leader of a clan called Lambda.  Everyone seems to either love him or hate him, but why?  There are twelve clans in all in the Dionne System and their professions range from mundane to insane.  There are children and teenagers who work as bounty hunters in their clans.  There are children who work as thieves to help disclose secrets of the hellions.  Some are from wealthy backgrounds and others are not.  Despite it all, each clan has one chosen person who receives an angelic companion and the coolest part is that the chosen person also receives a special power from their angel.  These aren't your typical angels either.  They are super heroes with super powers.