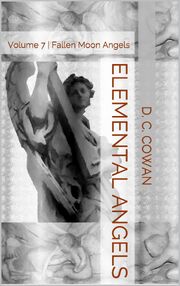 Fallen Moon Angels Saga
Edit
Five hundred years have passed since the Lunars were frozen and sealed inside the Ice Dome.  Though they are called fallen angels, they differ from the typical demon or angel.  The Lunars are a celestial race of being known for their beauty, but also known to have a raging beast inside all of them.  Because they fell away from their creator, they have been cursed.  Lunars have skin as white as the moonlight and transform into werewolf demons by the sight of it.  Good thing they've been sealed away in the ice cavern for centuries.  But what if someone knew the secret of the Lunars and desired to free them?  When two scientists discover a way to revive the Lunar race, they will stop at nothing to ensure the fallen moon angels take over Dionne.  Will Venus and her friends be strong enough to defeat the evil race before they dominate the galaxy?  Find out in Volume 7 of Elemental Angels.
Ad blocker interference detected!
Wikia is a free-to-use site that makes money from advertising. We have a modified experience for viewers using ad blockers

Wikia is not accessible if you've made further modifications. Remove the custom ad blocker rule(s) and the page will load as expected.